It's summer – the ideal time to decorate the garden. And what could be a more beautiful way of decorating it than with colorful garden flags?
While this type of flag is widely used, some people haven't known what they exactly are, why families use them, what they look like, and how to display them.
Please read on because this blog is a complete guide to those flags. Besides, you're covered with a selection of beautiful garden flags that are ON SALE within this post.
Let's get started!
What Are Garden Flags?
Garden flags are fabric pieces of decoration to adorn your house or yard. They are actually vertical banners with diverse themes, colors, and textures, with different ways of exhibiting them.
They have been around for centuries, but it wasn't until the 19th century that they became popular in America.
Reasons You Use Flags For Gardens?
Garden flags are a great way to add a splash of color, style, and personality to your yard or garden. It's a morale booster, a pop of art, and beyond all, it showcases that you're grateful for every moment in your life.
These flags come in various sizes and shapes and can be used for multiple occasions.
Whether you want to honor a loved one or just want to add some fun to your garden, it is easy to find the perfect flag for your needs.
What Size Are Garden Flags?
Large Garden Flags
Most garden flags on the market are 12.5" x 18". This size is considered a large size for them.
However, Flagwix's is 11.5" x 17.5" because we believe this size can fit most standard flag stands. And we have proven it successfully for years thanks to our customer's feedback.
Small Garden Flags
These flags in a smaller size are around 4" x 8". Though it's not very common as compared to large garden flags, people love it more as decor pieces for font porch steps and tabletops.
What To Look For In A Garden Flag?
The Right Size
The first step in choosing the right flag for your needs is deciding how large it should be. This will depend on where you want to display it and what type of message you want to send with it.
You may want a large banner if you want people driving by your home to see it clearly. On the contrary, smaller ones like garden flags will work better if you only want them seen close up or when someone is walking around in your yard.
If you are using the flag as an advertisement for your business, then it will need to be large enough so that people driving by can see it clearly from their car windows.
On the other hand, if you just want something decorative that will add some color and sparkle to your home's decorating scheme, then smaller flags are probably better suited for this purpose.
Material Types (Water-proof Fabric Recommended)
The most common type of material used in garden flags is nylon. It's lightweight, easy to work with, and quite durable.
Other popular materials include polyester, cotton, burlap, and rayon — these fabrics tend to be softer than nylon but not as durable or as strong as nylon.
Recently, canvas has popped into the market as the sought-after fabric. It combines all essential factors for an excellent outdoor flag since it's heavy-duty, water-resistant, fade-resistant, and a true color-vibrancy booster.
Read our post on how to keep garden flags from fading.
Depending on what kind of weather conditions your home faces, one type may be better than another. For example, if you live in a climate where it rains frequently or snows often, then you might want to go with a heavier-duty material like nylon or canvas (which will hold up better against exposure).
How To Know Which Design Will Work Best For The Garden?
Here are some tips on how to know which design will work best for the garden and also your personality:
Think about what message you want to send.
Do you want to make a statement? Or do you just want something fun and colorful? Maybe it's both. Whatever it is, it will help guide your final decision.
The most famous concept of these flags is seasonality and holiday. Seasons change, weather changes, and another holiday is coming! That's when people have a chance to change their outdoor banners to welcome new chapters of life.
So, the message you want to show can stick closely to the present season or holiday. That's how garden flags are used to express our enjoyment of every moment of our life.
Definitely a manifestation of mindfulness!
Consider where it will be displayed.
If it's in full sun, a darker color scheme may not work as well as one with brighter colors that stand out against the background. A bright red flag might look great in full sun but could fade quickly if left in the shade all day long.
If that is the case, consider an alternative design like a simple monochromatic stripe or solid color design instead of something busy or multicolored like stripes or polka dots.
Think about how often you plan on changing out your flags each season or year.
If it's going to be once or twice a year, then maybe something more permanent is best for you, like an embroidered design with no lettering.
However, it's not always bad to have lettering garden flags all year round. Once you opt for nylon or canvas flags, that won't be a big deal.
What are your needs in terms of visual art?
Outdoor decorative flags would fascinate us more for the right topic it shows at a particular time. That means you'd better pick flags that speak the right seasonal topic or holiday vibe. Moreover, opt for double-sided prints to make the most of its impact.
For example, Easter garden flags are ideal as Spring Equinox begins.
If you'd love to have your flag personalized, there are those options at Flagwix as well. Our personalized garden flags are a cost-efficient way to show your well-thought-out messages!
How To Hang Garden Flags
Setting Up Into a Flagpole or Stand
You need to ensure that your garden flag stand is tall enough for the flag. The standard height for a garden flag stand is 28" tall, but you can find them at other heights if you prefer.
Make sure that the ground under the stand is level so that it doesn't wobble or sway when it's in use.
Now, all you need to do is insert the flag's top sleeve into the top hook of the flag stand. Once you're already there, you may need a stopper to keep the banner from moving back and forth too much in the wind or even blown away.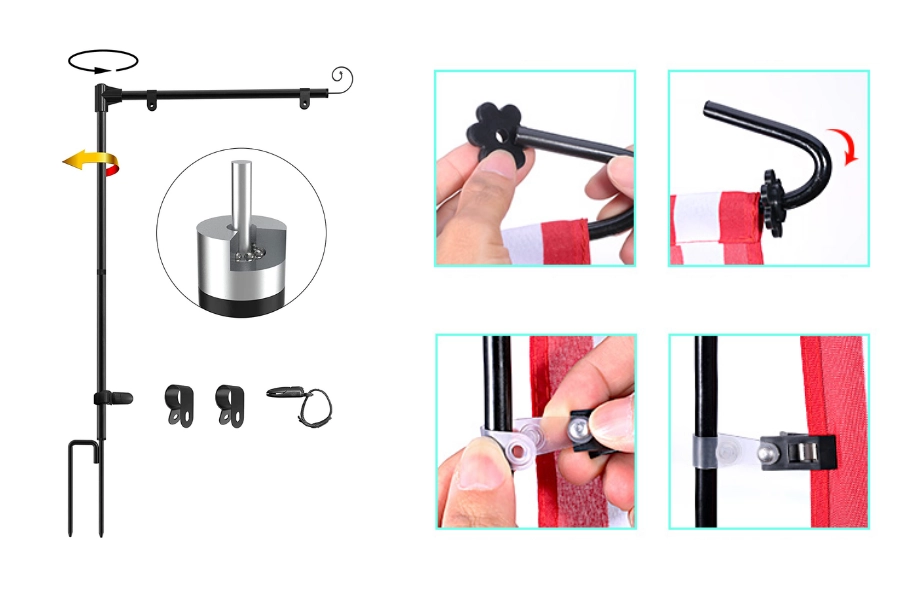 Keeping Flags From Flipping
When displayed in windy areas, your garden flags can easily flip. The most common solution to that problem is anti-wind clips. The clips will keep your outdoor flags from sliding off. It's also a matter of preference to use one or two clips. 
Where To Display a Garden Flag
There is more than just one way to display a garden flag. It actually depends on where you want to place it.
The most popular way is to hang it from a garden flag stand, as mentioned above. That way, the banner is supposed to send its message and beauty from a garden corner, a flower bed/pot, or the green lawn beneath a tree.
You can also hang yours from a wall/door hanger to welcome the visitors right at the front door or entryway.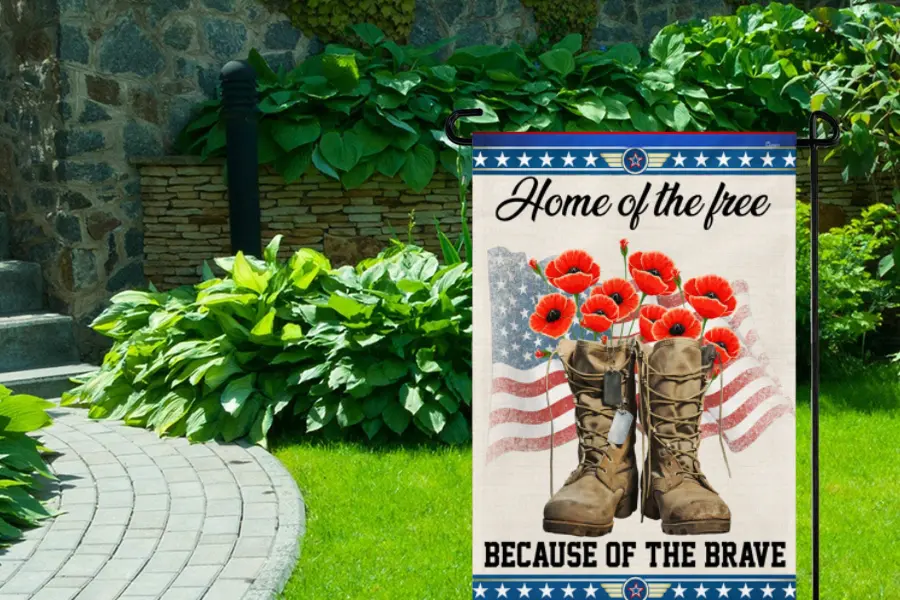 Along the walkway
If you place your garden flag near the edge of your yard, it might be hard for people to spot it.
Some people like to put their flags along their walkways so that when someone comes over, they can see what team they are rooting for before even stepping inside.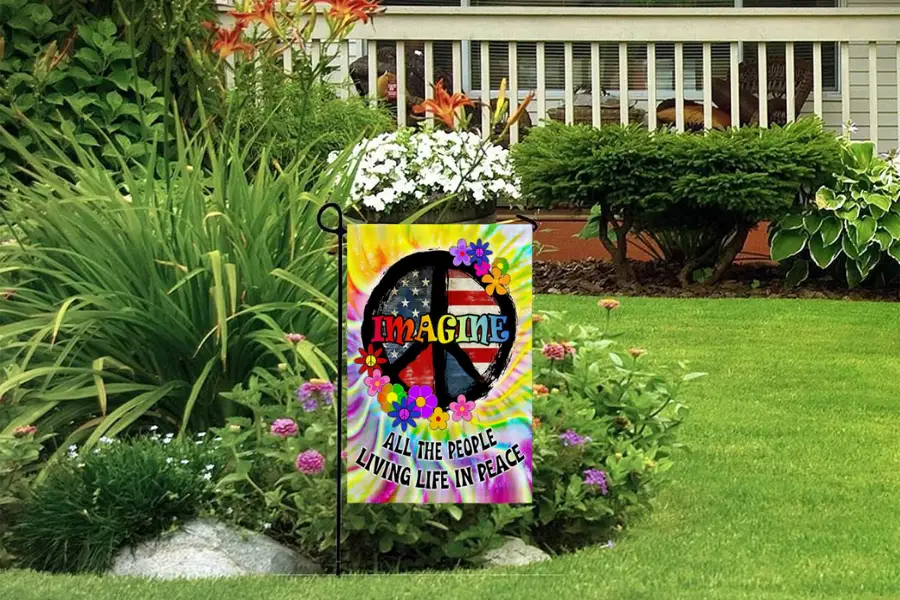 In the flower bed
The most common place to place a garden flag is in the flower bed. It is a great way to add color and flair to your garden.
The only problem with this is that it can be hard to find the perfect spot for your flag. Just make sure the flag won't harm your plants or flowers in any way. Most importantly, keep an eye on the shade created by the flag possibly constraining the plant's growth.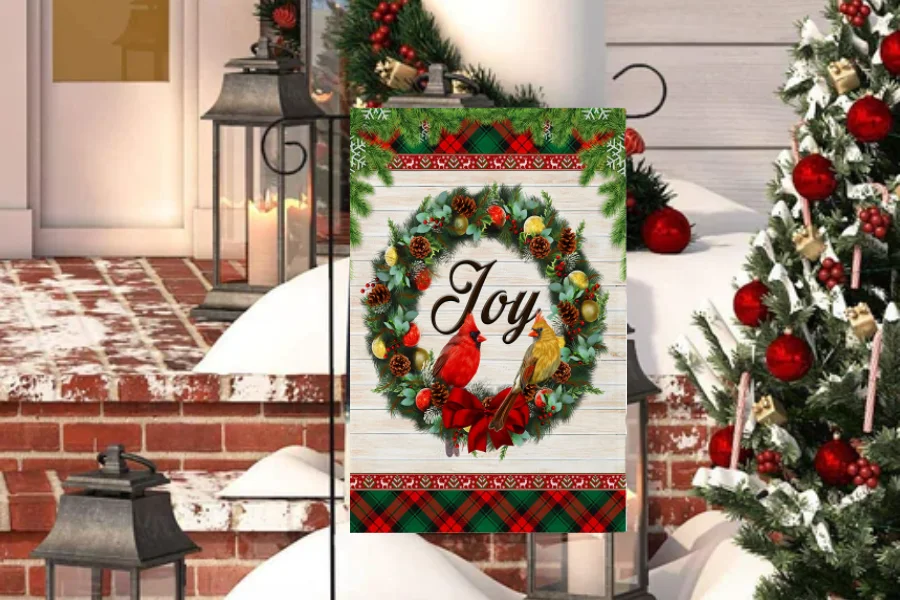 By the porch steps
Placing your garden flags by the porch steps is a great way to show off your flag while visitors are walking into your home.
Consider that the colors of your flag match the overall shade of your house!
For example, a white house with blue shutters and a black door may go perfectly with a white flag with blue lettering.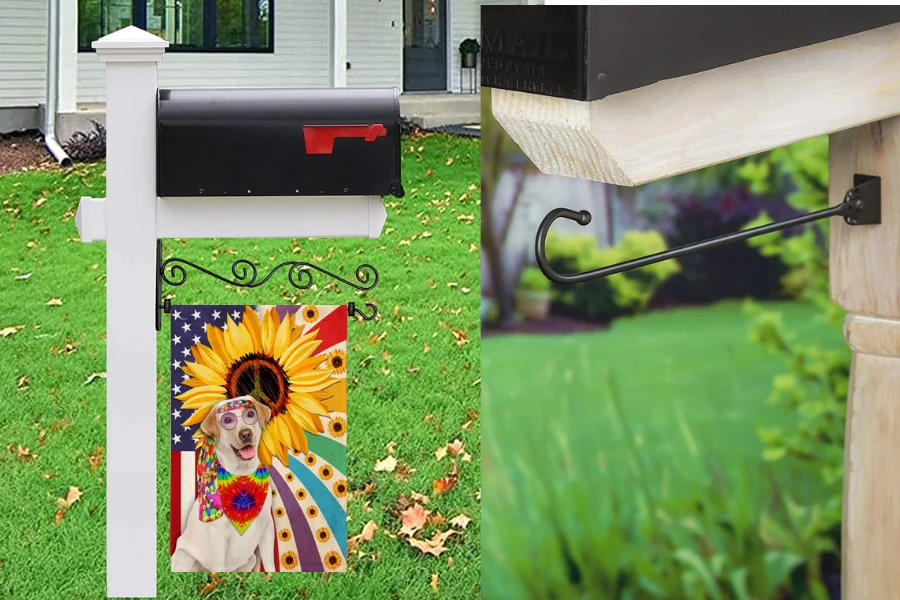 Near the mailbox
Another popular place to put garden flags is near or under your mailbox. This way people driving down the street can see what type of home lives there.
It's also a friendly greeting to passersby and your neighbors.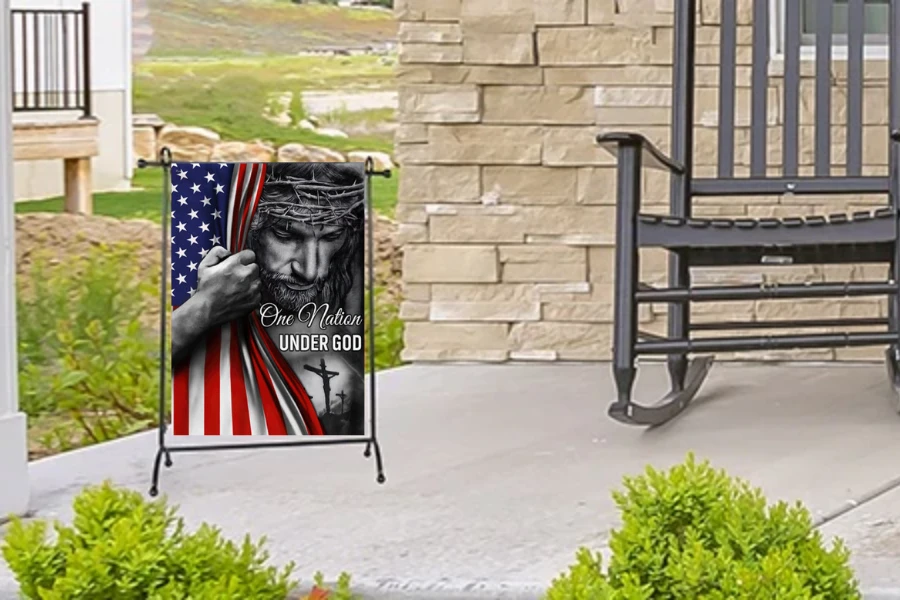 Porch/Patio
The porch and patio are the two most favorite places to display a garden flag. That makes sense because the flag will be visible from both sides of the house.
You can see it while sitting at the computer and from outside on your deck.
It's also easy to change out the flag when it becomes worn out or dirty.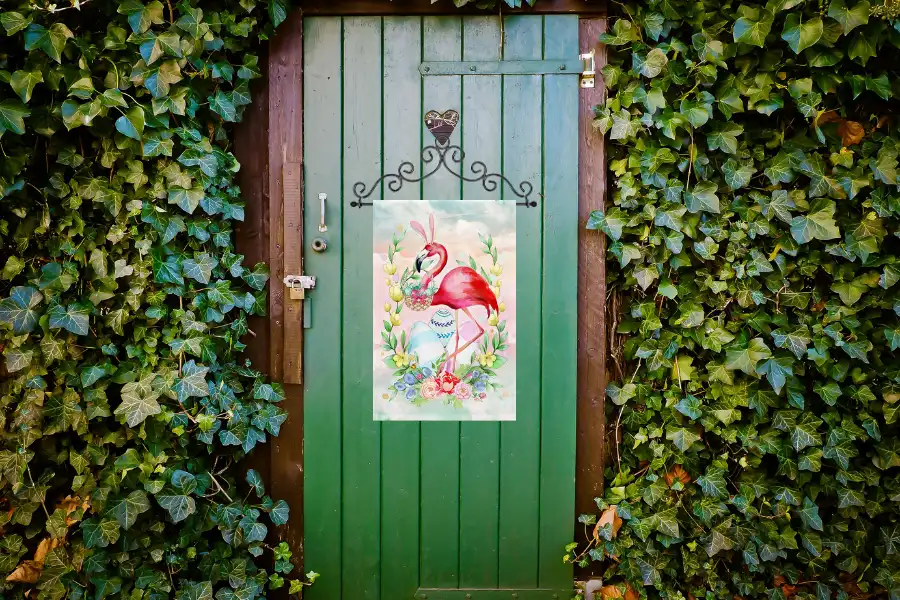 Doors
Hanging a garden flag on the door of your home has become popular in recent years. It's the perfect place because it's highly visible and everyone who enters or exits the home will see it.
If you want to make a statement, this is the way to go!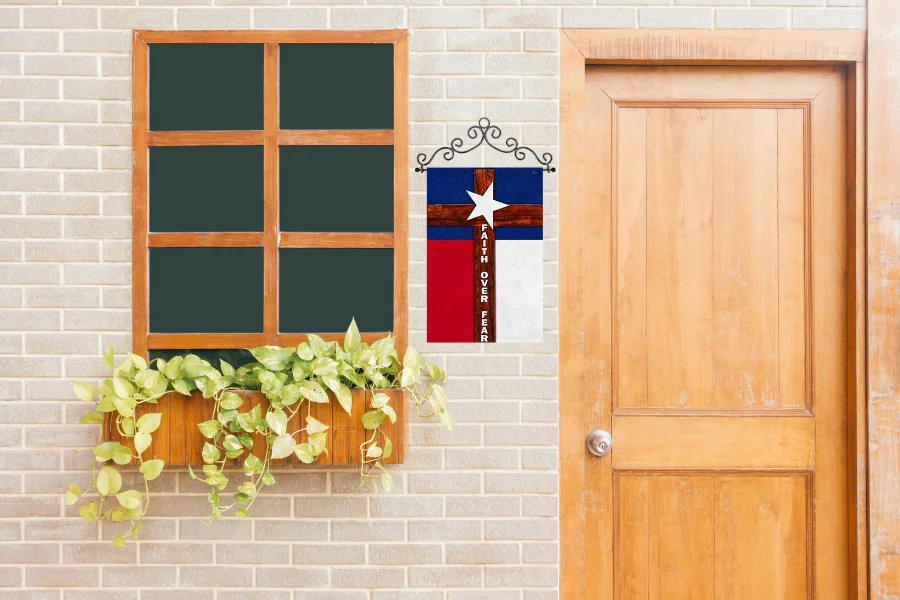 Walls
Hanging garden flags on walls is fine, though few people do it. The only problem is finding the right spot for them. Additionally, many people are afraid they may damage the wall.
Custom Garden Flags for Sale by Flagwix
Below are our bestselling custom garden flags. You can personalize them with your own texts or images.
Seasonal Garden Flags for Sale by Flagwix
Spring Garden Flags
Easter happens in Spring, a gorgeous season for you to hang some colorful "egg-and-bunny" flags in gardens. Also, you may want to celebrate Jesus Christ's resurrection from the dead.
Summer Garden Flags
Summer is all about going to the beach and enjoying every moment life brings you.
Fall Garden Flags
Fall is when you would feel the most grateful for all blessings embracing you.
On Thanksgiving, place a garden flag on your doorstep to show that you are aware of the present, which is blissful.
Winter Garden Flags
The beginning of winter is almost the end of the year.
This is a time for family fun, celebrating Jesus' birthday, and simply your love for snow and chill.
Bottom Line
Whether it's at home or an office, setting up your flags shows no difference. The only thing that can probably vary is the designs you're choosing or what displaying accessories you're going to use.
This post is almost everything you need to know about garden flags and how to use them. We hope it's been helpful to you!
Flagwix is offering 10% OFF your first purchase and many great rewards for new members. Get started by registering your account on our store website today!
Thank you for reading!