Your garden space seems to be tedious and monotonous. So, you need creative things to change the vibes and brighten outdoor décor. A Double Sided Garden Flag would be a superb choice. With the different designs on two sides of the garden flag, this item promises to bring a unique and charming look to your garden.
Double Sided Garden Flags For Decoration
What Is A Double Sided Garden Flag?
Double Sided Garden Flag is an item used in outdoor decor. Unlike the single sided flag, it is printed or sewn on both sides. The two-sided garden flag show images on the front side and the backside correctly. In the process of making a two-sided flag, two flags are attached together. Then, one piece of fabric is added in the middle of two flags to prevent the flag from 'flash through". 
Material: Polyester, Sunshade fabric, Burlap fabric, Nylon, and Canvas are common materials in two-sides flag making. These materials are durable, UV, and fade resistant.
Size: There are several typical Double Sided Flags including 11.5 x 17.5, 12.5 x 18 and 29.5 x 39.5.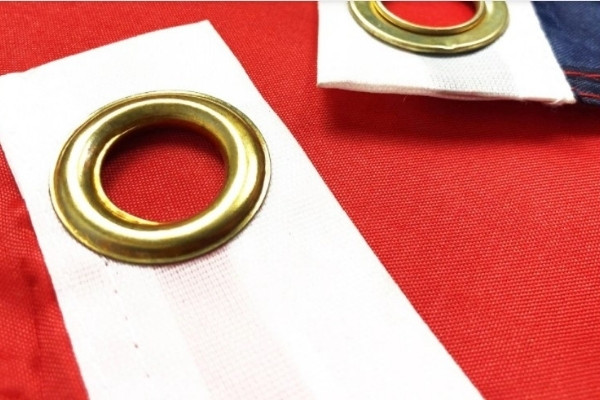 Single Sided Flags Vs. Mirror Side Flags Vs. Double Sided Flags
Single Sided Flags:
They are printed on one side. There are no images or letters on the other side. 

These items are the most common selection.

Its cost is cheaper than other types of flags because it takes less material to make. Only one garden flag is sewn and printed. 

These decorative items are very lightweight. So, they easily fly into the wind. 

Compared to the two-sided garden flag, the life span of single sided one is usually shorter. Because of the lightness, one-sided products will suffer tears and wear faster. They will also flap more. 
Mirror Sided Flags (or Single Reverse Flags): 
This garden flag is printed or sewn on one side. The dye will bleed through the other side, and people can see an inaccurate image on that side. It is the reverse image of the front-side. Stitches are visible on the other side, and they also show the 'mirror' image of the front side. 

This kind of flag is popularly produced.

This garden flag is lightweight for the maximum ability of flying.
Double sided flags: 
Beautiful printing with identical vibrancy and clarity on both sides

This garden flag is costly because its material costs more than other flags.

Two-sided flags are heavier than other types of flags. So, it takes more wind to fly into the garden flag. 

These items cause a lot of stress on the stitching as three pieces may rub together.
Difference Between Sewn Sided Flags And Printed Sided Flags
Here is some information about the main features of two outdoor decorative items: Sewn Garden Flags and Printed Garden Flags.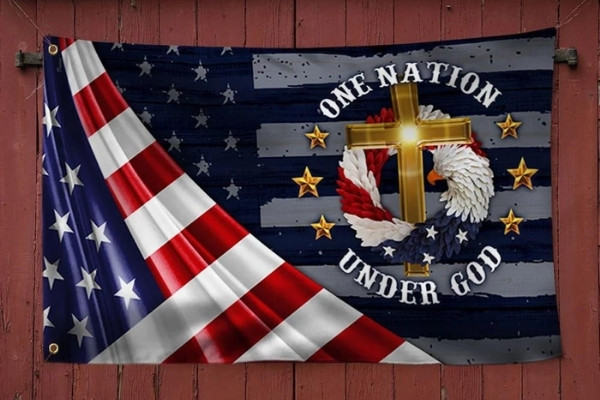 Sewn products have been used for decades. They usually bring traditional characteristics that other types of flags don't have. 
It takes a lot of time to sew a garden flag, primarily hand-stitched products. Sewn items are durable over time and hard to fade. A Sewn Garden Flag feel like the high-quality products when taking a look at them. 
Digital printing will be the best choice to create various colors for the decorative item, but sewing can also be made in almost any color. Hues can be layered to create brand-new colors.
Printed Garden products are made quickly. If you want to make a custom printed garden flag, choose the design, and printers will help you transfer images to the flag. 
It can't be denied that digital printing creates a flag with various hues. Besides, shading and outline are also added quickly and cost-effectively. 
Dye-sublimation will help you to have a high-quality product. Printing is an excellent choice if you want to have a two-sided flag with good quality and fast making. In case you would like to own a long-lasting product, you should consider sewn items. 
Depending on the intended use, you will choose your decorative outdoor flag. In many cases, sewing and printing can be combined and create a hybrid product. It would be a terrific choice for those loving both types of flags.
How To Make A Sided Garden Flag With Dye Sublimation
Materials Needed
Blank Garden Flag and Stand

Conde DyeTrans ProSpray

Protective Paper
Instructions
1. Place protective paper
Come over to the press and swing it open. Then, grab a sheet of protective paper for the bottom of the press. After that,  grab the flag and lay it nice and flat. 
2. Insert protective paper
Stick a sheet of protective paper on the inside so that images don't bleed through. Then, grab some scrap paper and fold it in half.
3. Apply DyeTrans ProSpray
Grab the conde dye transfer spray and lightly mist over the transfer. Then, place this directly on top of the garden flag. The pro-spray will let you move it around until it's perfect and looks good on all corners.
4. Press 55 seconds medium pressure at 400
In this step, you smooth out any wrinkles by putting one more sheet of protective paper on the top. Then, press for 55 seconds medium pressure at 400. 
Tips For Displaying Two Sided Flags In Garden
You can buy a garden flag stand or arbor to display your flag. These items help you hold your flag firmly on the ground. 

In a small garden, you should place the flag to the rear or the side.

In every season, you can hang particular garden flags. Also, on different holidays, let's display decorative outdoor items related to Halloween, Christmas, Thanksgiving, etc., to enjoy the atmosphere of these occasions. 

Different flags are suitable for different areas of your garden. A bright flag will be perfect for shady places. Patriotic flags should be displayed in the front yard.

You need to choose garden decorative items that fit the style and the color of your garden. If you select a flag that is too different, your garden will look so weird.
Despite the high cost, double sided garden flags are ideal choices in some specific situations. These decorative items give your yard a spot of color and colorful flair. With little effort, double-sided garden products will change your vibes and make it more colorful in a few minutes. Does your garden have any decorative item? Why don't you get an garden flag and try to transform your outdoor spaces? You can also give these items to gardeners or give them as house-warming presents. If you are finding a shop to get a garden flag, Flagwix is where you can rely on. 
Make sure to follow our daily posts at Blog Flagwix for many excellent tips on home decor and flag guidelines. 
PVC and Polyester are the most suitable materials to sublimation on. They allow you to transfer your designs with excellent quality. 
Not many flags are printed both sides because the two-sided flags are pricey. Most of decorative flags are single sided or single reverse items. 
Paraguay is the only country that has a two-sided flag. In the U.S, Oregon is the state with a double sided flag