Decorative garden flags are essential creative accessories for every home. Every garden looks as beautiful as possible, thanks to the color and seasonal vibe from these flags. A garden flag can brighten up your yard, and abundant garden flags even turn it into a work of art. So, go to learn about these beautiful decorative outdoor flags in this article!
What Are Outdoor Garden Flags For?
First, let's look at how these decorative garden flags can be used. Undoubtedly, they have been an excellent outdoor decoration for every home for a long time. A garden flag is typically 11.5″ x 17.5″ in size and is hung from a garden flag pole. You can own one flag pole and change out many different banners on it regularly.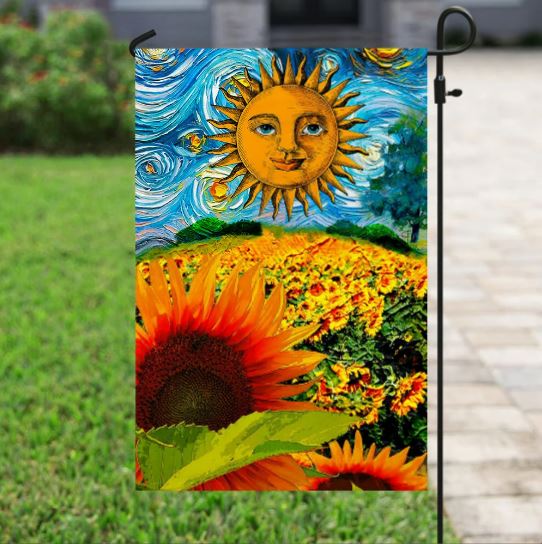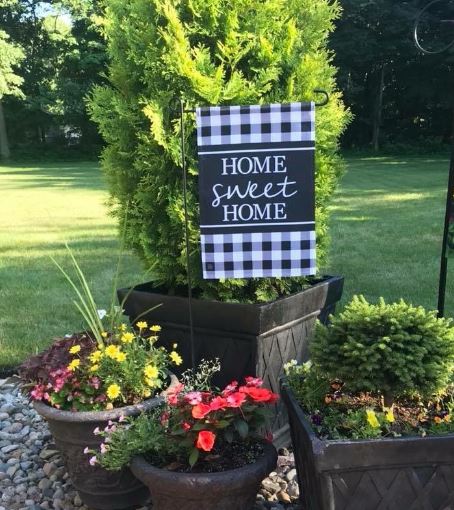 Artisans frequently designed unique garden flags with bright colors to fit a specific theme. As a result, seasonal garden flags for outside home decoration were born. A typical family will change their yard flag with each season to coincide with any holidays during that season. Or, to put it another way, it only needs to show a distinct season feature so that anyone looking at it will recognize the theme. Homeowners and family members derive a sense of excitement from such decorations as they prepare to welcome a special occasion.
Mini yard flags are used to highlight flower beds, bushes, or evergreen lawns and greet guests. Homeowners often place these outside flags on their patio or below their mailbox to add a welcoming touch to their homes. On top of that, they can be a great housewarming gift for friends and families. Read on to find out why a garden flag should be on your wish list soon. 
What Fabric Is Used To Make Decorative Garden Flags?
Both nylon and polyester are petroleum-derived plastic compounds. They are excellently durable and resistant to adverse environmental conditions. Therefore, polyester and nylon fabrics are the most commonly used to create outdoor flags. They are also waterproof, making them ideal for garden decoration in areas where direct rain and sun are permitted.
Burlap is a fabric made from the jute plant's natural fibers. It's rough and stiff and commonly used in craft projects, but it's not as popular as a garment material. Burlap is used to make eco-friendly decorations such as curtains, flags, and shade coverings. Particularly, flags made of burlap look rustic and easy to sew. 
Canvas is a plain-woven fabric made primarily of cotton and, to a lesser extent, linen. This fabric type is well-known for its durability, sturdiness, and heavy-duty. Canvas can be made water-resistant or even waterproof by combining cotton and synthetic fibers, making it an excellent outdoor fabric. On the other hand, outdoor canvas flags are not usually mildew resistant when used for an extended period.
How Do You Display The Decorative Garden Flags?
Decorative yard flags are typically placed in garden corners with many flowers and green leaves to make the scenery look as impressive as possible. Aesthetically, contrast is crucial. Furthermore, a location under the shade of a large tree trunk is ideal for a garden flag because it protects the banner from rain and direct sunlight. Patio, backyard, or at the front door are other options, as long as there is enough space for a garden flag to improve its appearance.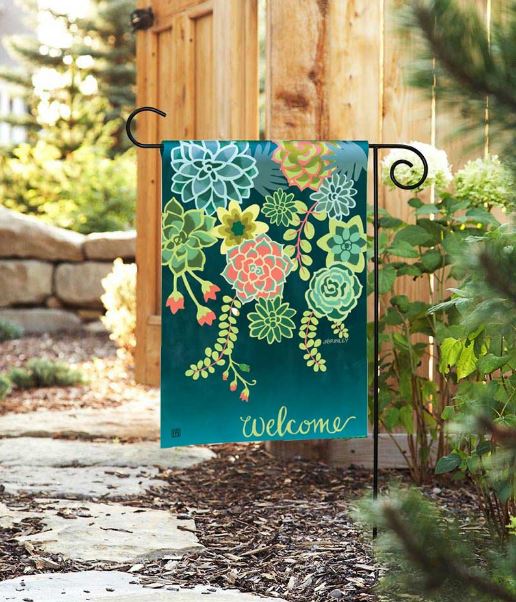 As mentioned in the first section, it is effortless to hang a flag on a flag pole. Even a single flag pole can accommodate multiple flags as long as they are changed one at a time. The most important aspect is how you secure the flag pole so that it does not tilt or even fall. Select a location that you believe is deep and sturdy enough to display the garden flag. This location could be a planter or a lawn. You can also dig a new hole and fix the flag pole with mixed concrete. Just remember to add a lot of small foliage at the base to hide the concrete and increase the contrast. 
Displaying outdoor flags is not as difficult as you might think. In addition, when you own such a product, knowing how to maintain them for long-term use is very important. Specifically, how to keep garden flags from blowing away and how to store garden flags are the topics to consider. 
Where To Buy Decorative Flags For Garden
A double sided garden flag is not difficult to find in specific stationery stores, but there aren't always enough options to even see. Instead, spend your time browsing online commercial sites like Etsy, Amazon, Home Depot, or Walmart. They are dependable locations where you can fill your cart with a variety of items. The best advice we can give is to look for a store specializing in flag-making. Flagwix is the shop where you can rest assured of the product quality and after-sales service. Otherwise, lest you desire to handcraft one yourself, learn our step-by-step guide on how to make a garden flag. As usual, our guides are straightforward to follow.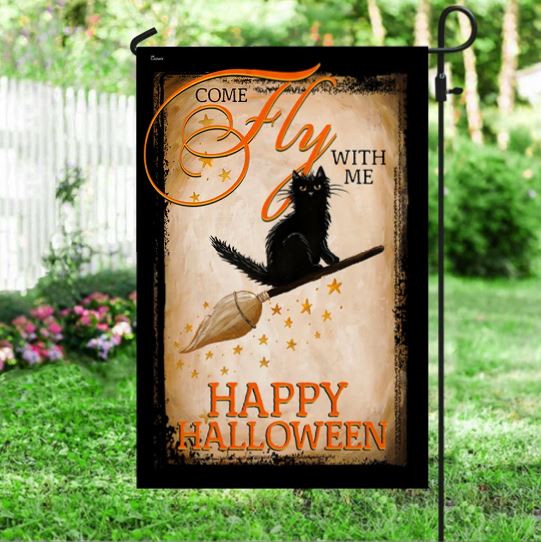 The most fantastic place to display a decorative garden flag is a potted planter in the middle of a garden or by the front door. You can also add a small garden flag beneath a mailbox or alongside the entranceway to your house. Make sure to create a flagpole height so that the banner is visible enough. 
A garden flagpole including a stabilizer arm is the solution to keep the flag from flipping over the winds. It's easy to install. Add the stabilizer clamps onto the vertical part of the garden flagpole as a horizontal extension arm. Then, attach the clips to the bottom of your garden flag.
There is no exact answer to the longevity of a garden flag. It mostly depends on how well you treat and protect it. Nonetheless, for further info, The U.S. Government generally expects a flag to last approximately 90 days based on daily usage from sunrise to sunset – but not during periods of inclement weather.